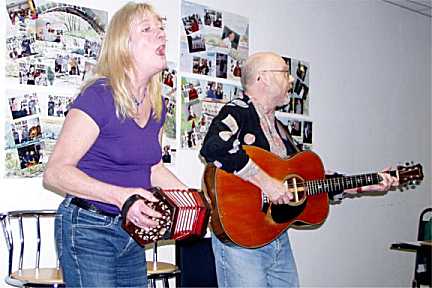 Pat Smith & Ned Clamp
Pat: vocals, anglo concertina, spoons.
Before becoming firmly established on the Welsh music scene, Pat started playing on the linoleum at an early age. A brief period with seminal band Swansea Jack led to a 25 year career as half of Calennig, recording many albums, and taking traditional Welsh music to the four corners of Llantrisant, and eventually all over the world. Pat calls and plays with the Calennig Big Band for twmpathau (Welsh ceilidhs). She is a virtuoso on the spoons, and her workshops, both in spoons and Welsh dance, are informative and highly entertaining.

Ned: vocals, guitar, harmonica.
Ned moved to Wales from the Celtic fringes of Surrey in the 70s and couldn't find his way back. A stalwart of the south Wales folk scene for over 25 years, playing, singing, calling, promoting, some say he's been a bit of an anchor.
Ned has played in various bands over the years including Juice of Barley, the influential ragtime duo Hamstrung Bones, and lately, in country roots duo Resonator, and his own occasional big band The Eduardo Clampini Allstars.
Together, Pat & Ned perform fascinating songs and tunes, old and new, from wherever they can steal them, blending gentle harmonies with top-drawer musicianship.
~~~~~~~~~~~~~~~~~~~~~~~~~~~~~~
"She swayed with the music's rhythm, confident and capable, and the concertina and Ned's guitar and voice sang themselves right into the heart of the audience, song after song..."
- Joe Collins, Tanner's Festival, July 2003.
~~~~~~~~~~~~~~~~~~~~~~~~~~~~~~
"...both fine singers...they had a total rapport with the audience." Eileen Moore,
Acorn Folk Club, Minehead, Feb 2004